Ottawa Things to Do contains affiliate links and is a member of the Amazon Services LLC Associates Program. If you make a purchase using one of these Amazon links, I may receive compensation at no extra cost to you. See my Disclosure Policy for more information.
33 Best Brunch Spots in Ottawa by Neighbourhood 2023
Whether you're looking for casual comfort food or a fancy meal, Ottawa has plenty of brunch spots that won't disappoint.
You can head to Elgin Street Diner in downtown Ottawa for all your breakfast staples like eggs and bacon, or to Yangtze for traditional dim sum. Or, drop by Savoy Brasserie for a Westboro brunch of delicious French crepes.
I've compiled all the best brunch spots in Ottawa by neighborhood.
Tip: If you can, I recommend calling ahead to reserve a table because many of these brunch spots are busy.
33 Best Brunch Spots in Ottawa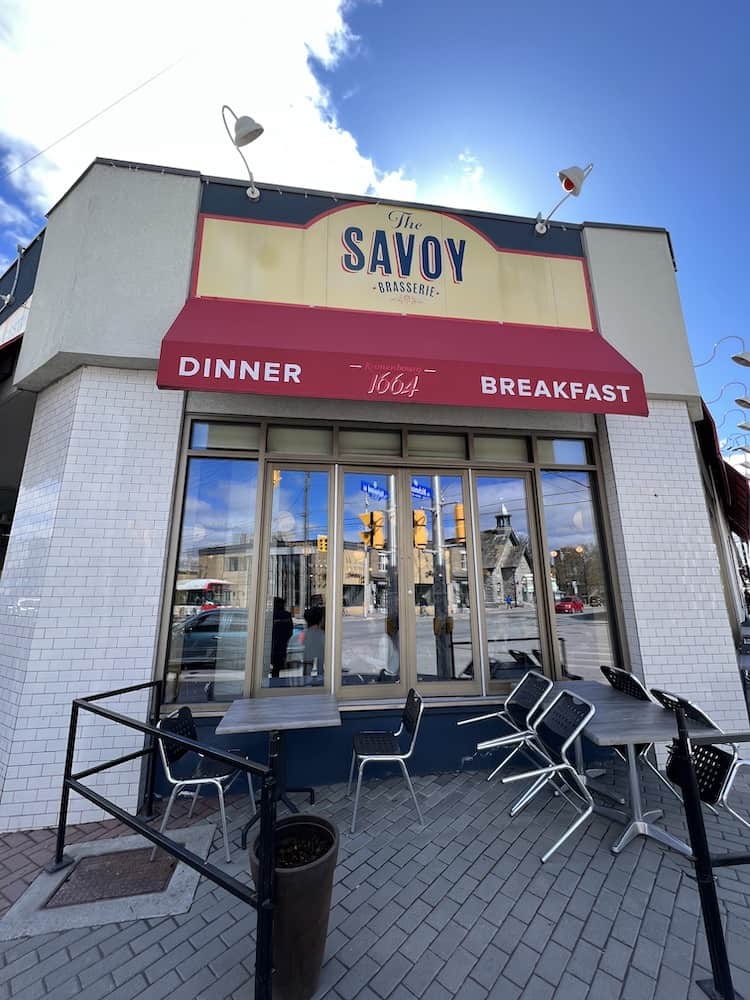 Best Brunch in Westboro, Ottawa
Chesterfields Gastro Pub
This is the brunch spot in Ottawa to go for great food and great ambiance.
This gastro pub is named after the uniquely Canadian word for a couch: a chesterfield. The pub chose this name to represent comfort and community.
Chesterfields' consider themselves a social co-op. They intentionally work closely with their guests, staff, local suppliers, and neighborhood services to create a community restaurant.
Chesterfields' is dedicated to making homemade fresh food. Their menu has classic brunch fare, with occasional twists.
Try the Fun Guy Melt!
Wellington Diner
This traditional diner uses the freshest ingredients to handcraft a unique menu.
It's a lovely spot to pop into for one of the best brunches in Ottawa, thanks to its casual and family-friendly vibe.
Breakfast is served all day long at the Wellington Diner.
On the menu, you'll find your classics like their traditional breakfast, as well as some unique creations like the Homie Breakfast Poutine, which has loads of St. Albert's cheese curds and hollandaise.
The Savoy Brasserie
The Savoy Brasserie is the Westboro brunch spot to go to for a fancy brunch!
It's a French pub that has an old-world aesthetic. You'll notice many classic French ingredients in their dishes, like berry compote.
Their brunch menu is available daily up until 4:00pm. On Fridays, mimosas are on special.
Try the strawberry and chocolate hazelnut crepes!
Gezellig
Have your weekend brunch in a converted 1950's bank building!
This spot is named after the Dutch word for a cozy, intimate atmosphere.
This is the spot to go for a fancy Ottawa brunch.
Try the gezellig breakfast sandwich.
Lexington
A smokehouse and bar that does southern-style brunch dishes and fun breakfast cocktails.
Try their slow-smoked brisket, "The Lex."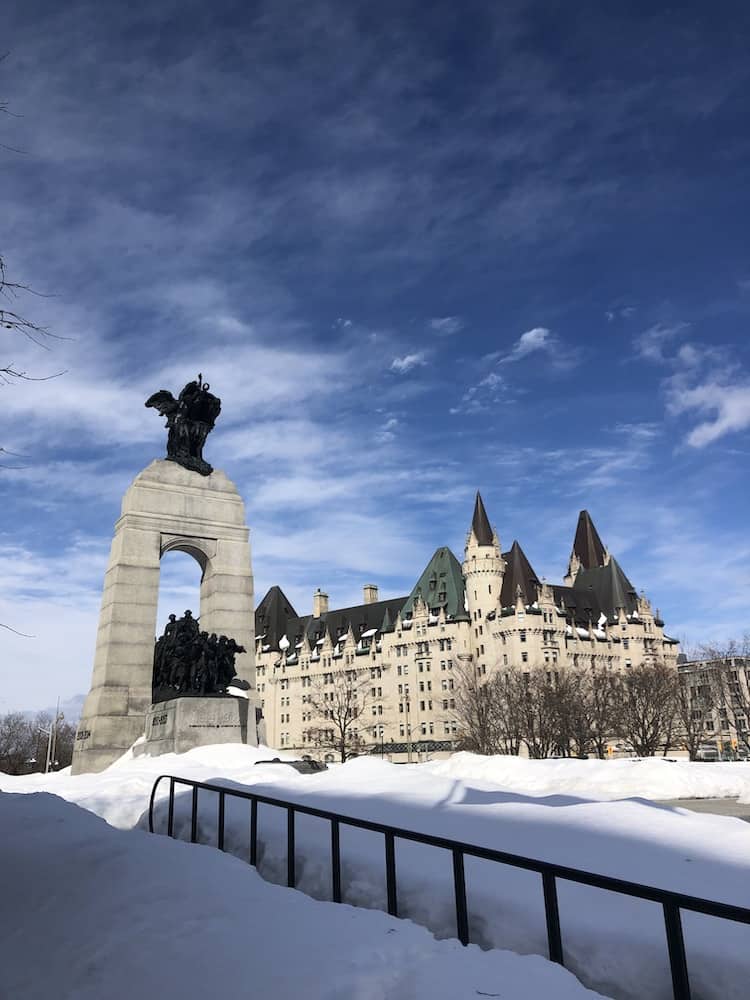 Best Brunch in Downtown Ottawa
The Manx
This low-ceilinged pub has been on Elgin Street for over 25 years.
Head to The Manx for a simple downtown Ottawa brunch in a cozy setting. They offer vegan brunch dishes, like the curried vegan tofu scramble.
Elgin Street Diner
Elgin Street Diner opened up over 20 years ago, and it's been a popular spot for brunch in downtown Ottawa ever since. This classic diner is open 24 hours a day, and has a very relaxed vibe.
Elgin Street Diner is the best brunch in Ottawa for a classic breakfast. The portions are generous, the prices are affordable, and the service is quick.
The Elgin Street Diner's all-day breakfast is what they're famous for, so definitely give it a try. If you'd like poutine with your brunch, upgrade to their Hangover Breakfast.
Sconewitch
Sconewitch serves fresh handmade scones all day long, which can be made into breakfast sandwiches.
Try the BLT with pesto breakfast scone!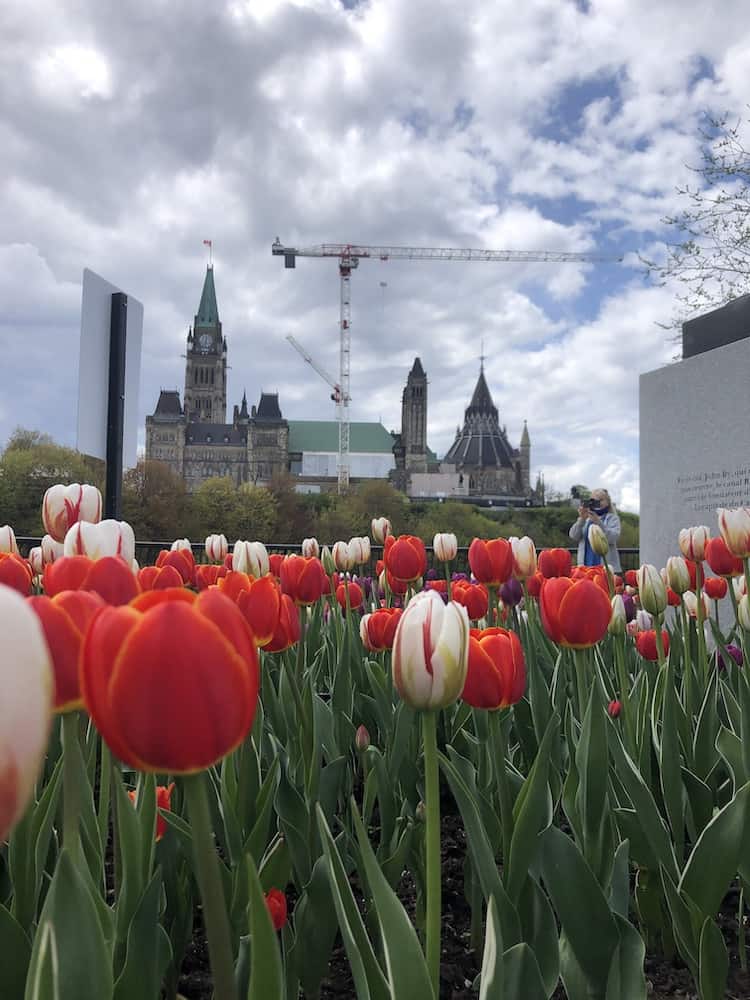 Best Brunch Spots in Centretown & Surrounding Ottawa
The Belmont
Head to The Belmont for one of the best brunches in Ottawa. Phil Denny runs this small restaurant that serves small plates and inventive comfort food.
Their dishes draw from different cultures. You'll notice Turkish, Chinese, and Caribbean influence. At brunch, they do bottomless mimosas.
Try the Full Belmont Breakfast, or go for the Huevos Rancheros or the Tasty Oat Cake for a lighter brunch.
The Rowan
A gastropub with a chic inside, complete with a tin ceiling. Try the breakfast BLT and their peach fritter if you'd like something sweet.
Kettleman's
Kettlemans is famous for their Montréal bagels, unique spreads, fresh salads, and sandwiches. Their bagels are hand-rolled, kettled, and baked in a traditional wood-burning oven.
Bagels are available at any time of day, and on any day, making this a good spot for a weekday Ottawa brunch. You can grab them plain, with a spread, or as a sandwich. Regardless of what kind of bagel you order, it'll come fresh out of the oven!

For brunch, try the breakfast bagel. It includes bacon, egg, and cheddar cheese.
Eddy's Diner
A classic diner where you'll find all the best brunches in Ottawa for comfort. French toast, pancakes, Belgian waffles, fruit bowls, and of course, home fries.
Affordable prices, too!
Soca Kitchen
Chef Daniela Manrique blends flavors from Spain and Latin America.
The menu has lots of seafood, from fried fish to fresh oysters.
Try their traditional Venezuelan breakfast and famous frozen cocktails.
Wilf and Ada's
This is a quaint little diner that does classic breakfast and brunch fare, all made from scratch. They also serve plenty of baked goods and delicious coffee. Their brunch is available on weekdays.
Try the daily frittata!
Evoo Greek Kitchen
A stylish, modern restaurant that serves Greek and Mediterranean fare.
Dishes here are presented creatively, you won't be able to resist snapping a picture of your brunch.
Try the spicy feta-baked eggs!
Flapjacks Pancake Shack
This popular spot started out as a food truck, before opening up a permanent restaurant.
They're known as a Canadian diner that serves everyone's favourite comfort foods.
Try one of their sausage skillets.
Art is in Bakery
This bakery makes everything from scratch, from their breads that are made using pre-ferments to their morning pastries.
Try their sweet french toast stack.
Yangtze
Yangtze has been an Ottawa staple for over 40 years. This restaurant in the heart of Chinatown does traditional dim sum, and also offers Cantonese and Szechuan dishes.
Dim sum is a traditional Chinese meal that's typically eaten in the morning or midday. It's made up of small plates of dumplings and other snack-style dishes that can be shared.
While you can order a single plate at Yangtze, it's definitely recommended to go for dim sum.
The Vanitea Room
This tea salon and eatery has unique decor and ambiance.
They're known for their fine loose teas from all over the world, as well as their three-course bottomless brunch, which includes bottomless prosecco and classic mimosas.
Oat Couture Oatmeal Cafe
This cafe has a super cozy atmosphere. It's the spot to go for oatmeal bowls, granola, overnight oats, toasts, and baked goods.
Their menu includes gluten-free, dairy-free, and vegan options.
Be sure to try the sunnyside oatmeal bowl.
Mazarine Brunch Ottawa
Mazarine is known for its Mediterranean-inspired brunch that's made with local ingredients.
Be sure to try the spicy shakshuka.
Jax
This Centretown bistro uses locally sourced ingredients to create classic breakfasts. And, they make their own freshly baked bread!
Be sure to try the smoked salmon bagel.
ByWard Market Ottawa Brunch Places
HQ
HeadQuarters is part beauty salon, and part café. Co-owner Damien Carvery had the idea to combine a hair salon and restaurant when he was sitting in a coffee shop that had a lot of excess space.
HQ also creates homemade syrups for specialty cocktails. Their cocktail HQ & CO has vodka, fresh lime juice, blue cotton candy syrup, and prosecco.
This is a fun and aesthetic spot to grab one of the best brunches in Ottawa.
Try the rum cherries and waffles.
Das Lokal
This European bistro has a German twist, so don't be surprised when you see sauerkraut on the menu!
They offer vegan options for brunch.
Try the German burger.
Zak's Diner
Zak's has been serving classic Canadian comfort food in the Byward Market since 1986.
They've been making their dishes in the exact same way for over 30 years.
Their Ottawa brunch is available on weekdays.
Try Zak's Big Breakfast and the fruit salad.
Cacao 70
This is the spot to go if you crave sweet treats for brunch.
Cacao 70 specializes in chocolate desserts, and so naturally, you'll find chocolate inspired dishes on their brunch menu.
Try the choco-nut waffle!
King Eddy
Head here for an elevated diner experience.
Inside the King Eddy is a relaxed vibe, and you'll find all the breakfast classics on their menu, including vegetarian options.
Try Eddy's sour cream pancakes.
Best Brunch in Vanier, Ottawa
Fraser Cafe
An upscale cafe that serves globally-inspired brunches.
They use seasonal and local ingredients and have vegetarian options.
Try the breakfast hash poutine.
Best Brunch in Kanata/Stittsville, Ottawa
Alice's Cafe
This is a casual little spot that serves all the comfort food you could possibly want for brunch. They have vegan, vegetarian, and gluten free brunch options.
Try the breakfast sammy!
Ritual on Main
A small coffee house that does great coffee, and great breakfast sandwiches. Inside you'll find a bohemian vibe.
NeXT
The menu at NeXT reflects Chef Michael Blackie's best food memories from his 30 year, international career.
You'll find a balance of Canadian dishes as well as Asian and European inspired dishes.
Best Brunch in Barrhaven Ottawa
Cafe Cristal
This cute cafe is known for its premium teas, coffee, paninis, and pastries. They have vegetarian options.
Be sure to try one of their crêpes for brunch.
Best Brunch in Gatineau
Bistro CoqLicorne
This bistro is a hidden gem in Gatineau. They specialize in Spanish-inspired dishes and tapas, and their menu changes every few months based on seasonal ingredients.
Try the breakfast club.
Conclusion: Best Brunch in Ottawa
As you can see, Ottawa has a fantastic brunch scene.
Whether you wake up craving an oatmeal bowl, french toast, or another breakfast dish, you'll be able to find it in one of these Ottawa neighborhoods.
Planning to visit Ottawa? Learn How to Get From Ottawa Airport to Downtown Ottawa.
Read More Fun Things to Do in Ottawa this Summer
Read More About Ottawa
Ottawa Travel Planning Guide
🚑 Should I buy Ottawa travel insurance?
100% YES! — There's a misconception that Canada has "free healthcare" for everyone. Nope! Only Canadians. So you'll need to get travel insurance to visit Ottawa. I recommend this one.
💧Can you drink the tap water in Ottawa?
Yes – ish — While you can technically drink the tap water in Ottawa, as a local I don't recommend it. Old hotels especially can have some nasty things in their pipes. Instead, get a filtered water bottle. (Read more)
🚙💨 Do I need to rent a car in Ottawa?
Yes — Renting a car in Ottawa is one of the best ways to get around! You'll be able to see more of the city and beyond, like the epic hiking trails. I recommend Discover Cars for the cheapest rates possible.
📲 Do I need to know French in Ottawa?
Nope! — The primary language of Ottawa is English. While French is also spoken and on some signs, you can easily get by without knowing any French. (Read more)
🏩 What's the best way to book my Ottawa accommodations?
For Ottawa hotels, Booking is the best site. If you're considering an Ottawa Airbnb, don't forget to also check VRBO, which is often cheaper than Airbnb. My #1 hotel recommendation in Ottawa is the Fairmont Chateau Laurier.
✈️ What's the best site to buy Ottawa flights?
For finding cheap Ottawa flights, I recommend Skyscanner. You can even set a price alert to find out when flights are on sale.
🎫 Do I need a Visa for Ottawa?
Likely Not — U.S. and most European Passport holders don't need a Visa to visit Canada.
📍 Where is Ottawa? And what's nearby?
Ottawa is the capital city of Canada, located in Ontario. It's right on the border of Quebec. It's about 2 hours from Mont Tremblant, 3 hours from Montreal, or 5 hours from Toronto. You can take a road trip to get to other places or fly.